John H. Miller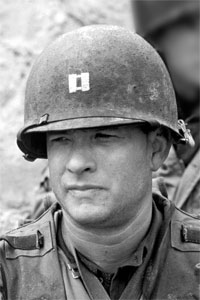 Rank: Captain
Position: Company Commander
Unit: 2nd Ranger Battalion, Company C
Before joining the Army, John Miller (Tom Hanks) had been employed at Thomas Alva Edison High School in Addley, Pennsylvania, were he had taught English composition since 1933. Miller was married and was also the coach of the local baseball team.
Volunteering for the Rangers, Miller served in Tunisia, Africa (Kasserine Pass) in 1942/43, where he first met Mike Horvath, an honest and dependable NCO. The two would serve together during Operation Torch, the Allied landings at Anzio, Italy in 1943. Transferring to the 2nd Ranger Battalion, Miller and Horvath next prepared for the assault on Hitler's vaunted Atlantic Wall defenses as part of Operation Overlord.
On D-Day Miller led Company C of the 2nd Ranger Battalion onto Omaha Beach. Miller's men suffered high casualties during the attack, but the German defenses were too weak to hold off the flow of American soldiers and equipment. The Rangers conducted numerous operations for the next few days, and on June 9th Miller was given a special mission to retrieve a 101st Airborne paratrooper, Private James Ryan, whose three brothers had been recently killed in combat. Picking out a squad of men from Company C (Horvath, Reiben, Jackson, Mellish, Wade and Caparzo), together with Corporal Upham of the 29th Infantry Division, Miller and his men set out for Neuville to search for Ryan.
Shortly after arriving in Neuville, Private Adrian Caparzo was killed by a German sniper. Although Ryan was no longer in Neuville, Miller eventually learned of his rally point from a fellow paratrooper, and his squad settled down in an abandoned church for a few hours of rest.
Making their way to the rally point, the squad found a field into which numerous gliders had landed or crashed. Here they found a 101st Airborne paratrooper who had known Ryan, and explained that Ryan had set out with a mixed unit to defend a bridge at Ramelle.
Continuing the search, the squad next encountered a German machine gun emplacement. Miller's men were reluctant to attack the position, but Miller was steadfast and set on destroying it in spite of the risk. Medic Wade was killed during the attack, and a lone German was taken prisoner. Although affected by Wade's death, Miller was forced to let the German go in the hope that he would be picked up by advancing Allied forces.
Private Ryan was finally found outside of Ramelle on June 13th. Ryan refused to leave with the Rangers, and made it clear that he intended to stay with his unit and defend Ramelle's bridge against an expected German attack. The small unit of paratroopers in Ramelle had very few weapons, and Miller, the ranking officer, decided to stand with them and prepare a suitable defense.
As a fallback position a bombed-out structure on the opposite bank of the Merderet River was designated as "The Alamo," from which explosives planted around the bridge could be detonated if the Germans could not be stopped. Once the Germans attacked the Rangers and paratroopers were able to fight on the move, but were soon overwhelmed by the numerical superiority and equipment of the Germans. The survivors retreated across the bridge to The Alamo, but Captain Miller was knocked to the ground by the blast of a German tank shell. The detonation device for the explosives had been knocked out of his hands, and as he moved across the bridge to retrieve it, Miller was fatally shot in the chest. The shot had been fired by the same German soldier that Miller had set free earlier.
Decades later an elderly James Ryan visited Miller's grave at the Normandy American Cemetery and Memorial in France. Ryan sought approval from his wife in the hope that he had lived up to the sacrifice made by Miller and his men.
Press Kit Information
Tom Hanks became the first actor in over 50 years to win back-to-back Best Actor Academy Awards when he took home his second Oscar for his unforgettable performance in the title role in Robert Zemeckis' "Forrest Gump." In addition, his work in the film brought him a Golden Globe Award and a Screen Actors Guild Award. The year before, he had been honored with his first Academy Award, as well as a Golden Globe Award for Best Actor, for his moving portrayal of AIDS-stricken lawyer Andrew Beckett in Jonathan Demme's "Philadelphia."
He had previously won a Golden Globe Award and earned an Oscar nomination for his portrayal of a little boy in a man's body in Penny Marshall's "Big." He garnered another Golden Globe nomination for his work opposite Meg Ryan in the romantic comedy hit "Sleepless in Seattle," directed by Nora Ephron. Hanks, Meg Ryan and Nora Ephron most recently reunited for the upcoming romantic comedy "You've Got Mail."
Hanks received widespread critical and audience acclaim for his work in "Apollo 13," in which he starred as astronaut Jim Lovell. His passion for the space program has most recently carried over to the acclaimed HBO miniseries "From the Earth to the Moon," which chronicles the story of America's Apollo missions. Hanks executive produced and hosted the series, in addition to directing one segment, writing or co-writing several others, and acting in an episode as well.
In 1996, Hanks made his successful feature film writing and directing debut with "That Thing You Do," in which he also starred. The title song spawned a hit single and also received an Academy Award nomination for Best Original Song.
His other film credits include "Bachelor Party," "Splash," "A League of Their Own," "Punchline," "Nothing in Common" and "Volunteers."
Notes
Miller and Horvath are said to have served together at Kasserine Pass (North Africa, February 1943) and at Anzio (Italy, January 1944). The only Ranger unit at Kasserine Pass was the 1st Ranger Battalion, while the 1st, 3rd and 4th Ranger Battalions participated in the Anzio landings. The 1st and 3rd Ranger Battalions were lost at Anzio, so it would appear that both men were among the very few to avoid death or capture by the Germans. They were presumably assigned to either the 1st, 3rd or 4th battalions for the Anzio landing, and then reassigned to the 2nd Battalion for the D-Day landing.
Fact vs. Fiction
Captain Miller is a fictional character. The real commanding officer of Charlie Company on D-Day was Captain Ralph Goranson.
As in many Hollywood films and television shows, Tom Hanks portrays a character who would in reality be much younger than his actual age. Hanks was 41 when filming Saving Private Ryan. A Ranger captain from World War II would more than likely have been in his 20s. The age limit for Rangers in World War II was 35.