Jackson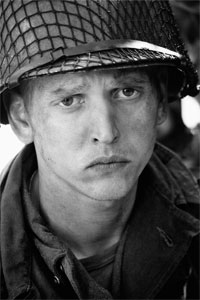 Rank: Private First Class
Occupational Specialty: Sharpshooter
Unit: 2nd Ranger Battalion, Company C
Commanding Officer: Captain John Miller
A sharpshooter in Charlie Company, Private Jackson (Barry Pepper) was deeply religious, and was fond of quoting passages from the Bible while employing his skills in combat. Jackson was one of the soldiers hand-picked by Captain Miller to search for Private James Ryan.
Although the Rangers did eventually find Ryan in the town of Ramelle on June 13th, the Rangers were forced to help defend the town from an imminent German attack. Jackson and paratrooper Parker of the 101st Airborne Division assumed a position in a partially destroyed church bell tower. Armed with a .30 caliber machine gun, Jackson and Parker served as lookouts and alerted Miller to the numbers and composition of the approaching Germans. Although effective for a short time, Jackson and Parker's position was soon targeted by the Germans, who blew off what remained of the top of the bell tower, killing both men.
Press Kit information:
Barry Pepper recently wrapped production on the film "Enemy of the State," due out this fall, in which he co-stars with Gene Hackman, Will Smith and Jon Voight. His other film credits include "Firestorm," with Scott Glenn and William Forsythe, and a lead role in the Canadian film "Urban Safari," which premiered at Cannes.
His television credits include such projects as "A Killer Among Friends," starring Patty Duke; "Johnny's Girl," opposite Treat Williams; and the miniseries "Titanic," with George C. Scott, Tim Curry and Peter Gallagher. In Canada, he is best known for his work on the award-winning series "Madison."
Pepper hails from Canada, but had an unconventional upbringing. From the age of five, he spent three years traveling with his family to places like Fiji, Tahiti and New Zealand on a boat which they built themselves. Later moving to Vancouver, Pepper enrolled in acting classes and performed in such plays as "Equus" and "The Taming of the Shrew."
Fact vs. Fiction
A valid criticism of Saving Private Ryan is the presence of a church tower in Ramelle. Such obvious locations for a sniper/sharpshooter were normally destroyed by either side, and the German attacks on Ramelle, which had obviously inflicted heavy damage on the town, would have certainly included the destruction of any high vantage point. Church steeples and bell towers were prime targets, and Jackson and Parker were sitting ducks whose time was numbered once they assumed such a useful, but highly dangerous, position.
Jackson is a fictional character