Mellish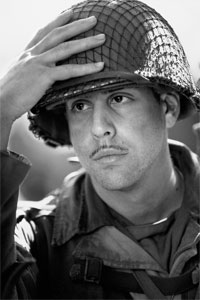 Rank: Private First Class
Unit: 2nd Ranger Battalion, Company C
Commanding Officer: Captain John Miller
Nicknamed "fish" by Private Adrian Caparzo, Private Mellish (Adam Goldberg) was one of the Company C Rangers who survived the attack on Omaha Beach on June 6, 1944.
Handed a Hitler Youth knife by Caparzo shortly after making their way off of the beach, Mellish joked that it was now a Shabbat challah cutter, a Jewish bread knife.
Days later Mellish was chosen by Captain Miller for a dangerous mission to find and rescue a paratrooper, Private James Ryan, whose brothers had been recently killed in combat. The squad's first casualty in the search for Ryan was Mellish's friend Caparzo, who was killed by a sniper in the village of Neuville.
Mellish himself was killed on June 13th during a German attack on Ramelle, a small village that Ryan and his unit had been tasked with defending. Miller had decided to stay and assist the paratroopers in defending Ramelle's bridge, and Mellish had teamed up with Corporal Henderson in manning a .30 caliber machine gun. During the battle Mellish and Henderson had fallen back to the second story of a heavily damaged building. Henderson was fatally shot, and Mellish was attacked and forced to fight hand-to-hand over Henderson's body. Mellish was eventually overpowered, and his opponent sank Mellish's own bayonet into his chest.
Press Kit information:
Adam Goldberg will next be seen in Ron Howard's "ed TV," and he also lends his voice to the Jack Russell terrier, Flealick, in the upcoming "Babe" sequel, "Pig in the City." He made his feature film debut as Billy Crystal's brother-in-law in "Mr. Saturday Night," and went on to star as Mike, the neurotic high school student, in Richard Linklater's "Dazed and Confused." His film credits also include John Singleton's "Higher Learning" and "The Prophecy," with Christopher Walken.
Goldberg made his directing and screenwriting debut with "Scotch and Milk," a neo-noir drama on which he also served as executive producer, co-editor and star. Shot entirely in black and white, the film made its world premiere at the recent Los Angeles Independent Film Festival.
For television, Goldberg has signed an exclusive deal with ABC to develop and star in his own series. He was previously a regular on the ABC series "Relativity," playing the roommate Doug. On NBC's "Friends," he had a recurring role as Eddie, Matthew Perry's obsessive roommate. He has also guest starred on such series as "NYPD Blue," "ER" and "Murphy Brown."
Raised in Hollywood, California, Goldberg began acting training at the age of 14, later studying at the famed Lee Strasberg Institute. He attended Sarah Lawrence College, where he performed in a number of stage productions before returning to Los Angeles to pursue his career.
Notes
There are two issues surrounding Mellish's death that deserve attention. The first is the identity of his killer, who is not the same German soldier ("Steamboat Willie") set free by Captain Miller earlier on. The German that kills Mellish is a Waffen-SS officer. A comparison of the two German soldiers does show some similarities, but they are two separate characters.
The second issue is the somewhat ineffective special effects used in Mellish's final scene, which are noticeably unrealistic. The production seems to have used a fake lower body, which doesn't really match up well with the real head and shoulders of actor Adam Goldberg, who was presumably in a hollowed-out area underneath the floor.
One translation of the words spoken by the Waffen-SS soldier who killed Mellish is, "Give up, you don't stand a chance! Let's end this here; it will be easier for you like this!"
Fact vs. Fiction
Mellish is a fictional character.