Irwin Wade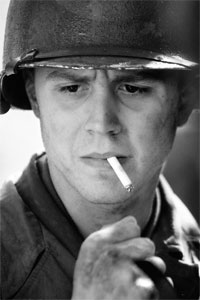 Rank: Technician 4th Class
Occupational Specialty: Medic
Unit: 2nd Ranger Battalion, Company C
Commanding Officer: Captain John Miller
Despite exposing himself to enemy fire numerous times, Medic Irwin Wade (Giovanni Ribisi) performed his duties admirably, and survived the blood-soaked sands of Omaha Beach on the morning of June 6, 1944. When Captain Miller was ordered to assemble a squad in order to search for Private James Ryan of the 101st Airborne, Wade was among those chosen for the dangerous mission. Quiet and soft-spoken, Wade was always eager to employ his medical skills and help fallen comrades.
After Private Caparzo was fatally shot by a German sniper in the town of Neuville, Wade had to be held back so that his own life would not be at risk before the sniper could be dispatched. Caparzo was dead before he could be helped, and all that Wade could do was to retrieve a letter from his corpse that Caparzo had been writing to his father. Wade would later recopy the bloody letter so that it could be sent to Caparzo's father.
Later, as their squad was advancing towards Ramelle, they encountered a machine gun emplacement that Captain Miller decided to destroy. Most of the men considered the action too risky, but Miller insisted that they could not bypass it.
Prepared to render aid as quickly as possible, Wade followed Miller and the others in their attack, but it was Wade himself who was hit. The Rangers did what they could to help, but no amount of sulfa powder or morphine could counter the damage caused by multiple wounds to Wade's abdomen. Seeing that Wade's injuries were fatal, Miller authorized additional morphine to ease the pain of death. Before Wade's burial Miller retrieved the copy of Caparzo's letter.
Press Kit information:
Giovanni Ribisi is fast becoming one of the busiest actors in the business. Following the completion of "Saving Private Ryan," he landed a leading role in Garry Marshall's "The Other Sister," with Diane Keaton and Juliette Lewis. Currently, he is filming the big-screen version of the classic television series "The Mod Squad," in which he teams with Claire Danes and Omar Epps as three young undercover cops.
"Saving Private Ryan" reunited Ribisi with Tom Hanks, with whom he worked on the film "That Thing You Do!" He more recently received critical acclaim for his work in Richard Linklater's "Suburbia," for his starring role in "First Love, Last Rites" and for his performance in the independent feature "Some Girls." His additional film credits include Kevin Costner's "The Postman," David Lynch's "Lost Highway," "The Grave," and "Scotch and Milk," directed by his "Saving Private Ryan" castmate Adam Goldberg.
Television audiences know Ribisi for his recurring role as Phoebe's brother, Frank, Jr., on the hit comedy series "Friends." Early in his career, he had a regular role on the sitcom "My Two Dads" and a recurring part on "The Wonder Years." His television work also includes guest appearances on such series as "The X Files," "NYPD Blue" and "Chicago Hope."
Fact vs. Fiction
Wade is a fictional character.