29th Infantry Division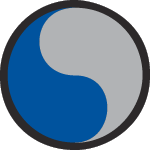 The 29th Division was activated on August 25, 1917 at Camp McClellan in Anniston, Alabama. The division originally consisted of National Guard soldiers from the North and South, hence the division's use of a blue and gray taeguk (the Korean symbol of life) as its insignia, and its nickname as the "Blue and Gray" Division.
The 29th first entered combat in World War I as part of the Meuse-Argonne offensive in October of 1918. Following the Armistice that ended the war on November 11th, the 29th was demobilized at Camp Dix, New Jersey on May 30, 1919.
On February 3, 1941, the 29th, whose units had functioned in the National Guard for the past two decades, was inducted into Federal service. Major changes were made to the division's structure in order to adapt it to the requirements of modern warfare. Training was conducted in the United States, and later, in southern England in preparation for Operation Overlord.
On June 6, 1944 the 29th and 1st Divisions landed on Omaha Beach. The 29th's 116th Infantry Regiment (temporarily attached to the 1st Division) was given the task of opening and holding two inland passages (Dog One and Dog Three) in the 3,000 yard stretch of Omaha they were assigned to. At approximately 6:30 in the morning on June 6th, landing craft containing Companies A, G, E and F of the 116th landed at Omaha Beach, Dog Green Sector, along with units of the 1st Division's 16th Infantry Regiment to the left, and Company C of the 2nd Ranger Battalion to the right. Follow up waves included Companies B, C, D and H, and Companies I, K, L and M. Other units that landed on Dog Green included the 743rd Tank Battalion, the 146th Engineer Battalion, the 115th Infantry Regiment and the 175th Infantry Regiment.
Five weeks after the D-Day landings the 29th reached the French city of Saint-Lô, and then later moved on to Vire. The 29th advanced south to Brest, were it assisted in the attacks against the German-held city of Brest, which fell on September 18, 1944. After moving into Holland, the 29th advanced into western Germany and captured the German city of Munchen-Gladbach on March 1, 1945. Following the German surrender the 29th traveled Bremen, where the division boarded ships in December for the return voyage to the United States. The 29th Division was deactivated on January 17, 1946 at Camp Kilmer, New Jersey.
The 29th Division underwent numerous reorganizations, and was eventually disbanded in 1968 when its units were assigned to other divisions.
On September 30, 1985 the 29th Infantry Division (Light) was reactivated at Fort Belvoir, Virginia. Its units consist of National Guard members from Virginia, Massachusetts, New Jersey and Connecticut. The 29th Division is currently slated to take part in the NATO Stabilization Force in Bosnia in October of 2001.