Mike Horvath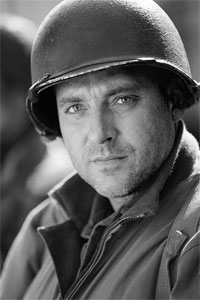 Rank: Technical Sergeant
Unit: 2nd Ranger Battalion, Company C
Commanding Officer: Captain John Miller
Having served previously with the Rangers in North Africa (Kasserine Pass) and Italy (Anzio) alongside Captain Miller, Technical Sergeant Mike Horvath (Tom Sizemore) was a member of Company C, 2nd Ranger Battalion on June 6th, 1944. Although Miller relied heavily on Horvath in leading the company, Horvath knew virtually nothing about his captain's personal life or history. Following Company C's attack on Omaha Beach, Miller was assigned to lead a squad in search of Private James Ryan, a paratrooper whose brothers had all been killed in combat.
During the search for Private Ryan the squad made an ill-advised attack on a German machine gun position, during which Medic Wade was killed. Private Reiben, fed-up with the mission, the loss of Wade and Private Caparzo, and the release of a German prisoner, confronted Miller. Horvath was forced to draw his sidearm when Reiben refused to follow orders and indicated that he would no longer participate in the search. Miller interrupted the confrontation by revealing his occupation, that of a school teacher. Both Horvath and Reiben were surprised to learn of Miller's background, and Reiben silently rejoined the squad and helped them bury Wade.
Private Ryan was eventually found in the bombed-out ruins of the village of Ramelle, but the young man refused to abandon his fellow paratroopers in defending a bridge against an expected German attack. Asked for his thoughts, Horvath commented that saving Private Ryan might be a means of producing something positive from a negative situation. In the ensuing battle Private Ryan's life was spared, but most of Ramelle's defenders, including Horvath, were killed. Horvath was shot in the back while retreating to a fallback position.
Press Kit information:
Tom Sizemore won the Best Actor Award at the 1997 Madrid Film Festival for his performance as a tough Chicago police detective in the supernatural thriller "The Relic." He had earlier received critical praise for his work as Scagnetti, the self-promoting detective on the trail of two serial killers, in Oliver Stone's controversial "Natural Born Killers."
Film audiences also recognize Sizemore for his roles in the crime drama "Devil in a Blue Dress," starring Denzel Washington; Kathryn Bigelow's futuristic thriller "Strange Days," with Ralph Fiennes; and Michael Mann's action drama "Heat," starring Al Pacino and Robert DeNiro. He counts among his other film credits "Heart and Souls," "True Romance," "Wyatt Earp," "Passenger 57," "Watch It," "Guilty by Suspicion" and "Born on the Fourth of July."
In May, Sizemore starred as John Gotti in NBC's "Witness to the Mob." He recently completed production on the film "The Florentine," in which he stars with Chris Penn and Michael Madsen for director Nick Stagliano.
A native of Detroit, Sizemore received his B.F.A. from Wayne State University and went on to earn a Masters Degree in Theatre from Temple University. He began his career on the stage, appearing in numerous regional and off-Broadway productions, including Horton Foote's "The Land of the Astronauts" at New York's Ensemble Studio Theatre, and "1984" at the Kennedy Center in Washington D.C.
Fact vs. Fiction
Miller and Horvath are said to have served together at Kasserine Pass (North Africa, February 1943) and at Anzio (Italy, January 1944). The only Ranger unit at Kasserine Pass was the 1st Ranger Battalion, while the 1st, 3rd and 4th Ranger Battalions participated in the Anzio landings. The 1st and 3rd Ranger Battalions were lost at Anzio, so it would appear that both men were among the very few to avoid death or capture by the Germans. They were presumably assigned to either the 1st, 3rd or 4th battalions for the Anzio landing, and then reassigned to the 2nd Battalion for the D-Day landing.
A bit of dramatic license can be seen in the tin cans that Horvath carries with him. With all the gear that a Ranger would have to carry with him on D-Day, it would seem unlikely that a soldier would use up valuable space with tin cans full of dirt. Also, the containers appear to be labeled with magic marker, something that had not been invented yet in 1944.
Mike Horvath is a fictional character.