Saving Private Ryan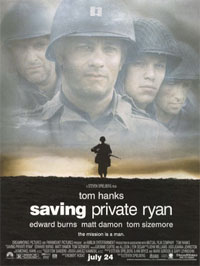 World War II was a pivotal event of the 20th century and a defining moment for America and the world. It shifted the borders of the globe. It forever changed those who lived through it, and shaped generations to come. It has been called "the last great war."
June 6, 1944. D-Day. Nothing could have prepared the soldiers at Omaha Beach for the battle they are about to wage. Filled with hope and resolve, none of them knows if they will survive the small strip of beach ahead of them. As his eyes scan the Normandy coast, Captain John Miller (TOM HANKS) believes that getting himself and his men past the gauntlet is the greatest challenge he has faced in the war. But his hardest task still lies ahead.
Even as the Allied forces begin to get a foothold at Omaha, Miller is ordered to take his squad behind enemy lines on a dangerous mission to find and retrieve one man: Private James Ryan (MATT DAMON). The youngest of four brothers, Ryan is the last survivor, the other three having all been killed in action within days of one another.
As the squad pushes deeper into enemy territory, Captain Miller's men find themselves questioning their orders. Why is one man worth risking eight--why is the life of this private worth more than their own?
Planning and Recruitment
"How do you find decency in the hell of warfare?" asks director Steven Spielberg. "That was the paradox that first attracted me to the project."
Screenwriter Robert Rodat agrees. "The film is about decency, and how patriotism ultimately has to do with one's responsibility to family, to neighbors and to those one fights alongside in the military."
Two events, coinciding four years ago, inspired the screenplay for "Saving Private Ryan": the 50th Anniversary of D-Day and the birth of Rodat's second son. He recalls, "A number of books were published to commemorate D-Day, and I was reading them when my son was born. I live for much of the year in a small New Hampshire town, and I would take my new son for walks in the early morning hours. In the town square, there's a monument to those from the village who died in war, dating back to the American Revolution. In almost every war, there were repeated last names--brothers who were killed in action. The thought of losing a son to war is painful beyond description; the thought of losing more than one is inconceivable."
Rodat brought the initial story concept to producer Mark Gordon, who remembers, "When Robert pitched me the idea, I instantly responded to it. It had the elements of a powerful human drama within an exciting action tale."
Over the next year, Rodat developed the screenplay with Gordon and his Mutual Film Company producing partner Gary Levinsohn. They then got it to the actor they had always envisioned in the lead role: Tom Hanks. "We were thrilled when he expressed an interest in the project," Levinsohn says.
"I've always been fascinated by World War II," Hanks reveals, "and I'm perpetually searching out books and other material that depicts the war as a human experience as opposed to a tactical one. That was a very vivid thing that came through in "Saving Private Ryan": on the one hand, it is a grand adventure story, but it is also a very human story."
Coincidentally, the screenplay had also been given to Steven Spielberg, whose own fascination with the era in which the story is set has been evident in many of his films. "Nearly half the films I've directed take place in the '30s and '40s," he acknowledges. "In fact, when I was barely a teenager, the second or third movie I ever made was a World War II action adventure called "Escape to Nowhere." I also grew up watching war movies, which had a tremendous influence on me."
Though the closest of friends, Hanks and Spielberg had never collaborated on a film before. The director allows that they shared some concern about working together, though it proved unwarranted. "I was thrilled that we were able to do this movie together," Spielberg says. "I've always had tremendous respect for Tom, and this experience enhanced my respect for him, both as an actor and as a human being. He offered great suggestions that benefited the film and was completely open to my ideas about his character. It was wonderful."
Hanks stars as Captain John Miller, the enigmatic officer who is chosen to lead a squad of young GIs on the perilous mission to find Private Ryan. "You're not really supposed to know anything about him," Hanks states. "You know he's a Captain, but beyond that, even his own men don't know where he's from, what he does for a living, what his motivations are? I think, as an officer, you have to remain cognizant of the fact that you're sending guys off to be killed, and that takes a kind of self-defense mechanism. It was one of the great attractions of the role; I don't often get to play men of mystery."
Spielberg adds, "One of the themes of the story is who is Miller...and who was he" Without flashing back or using any "tricks," can we see another side to him? It was very challenging in that regard."
Captain Miller is even something of an enigma to the man who has fought by his side for years, Sergeant Horvath, known simply as Sarge. Tom Sizemore who plays the veteran soldier, notes, "Sarge might know more about Miller than the other guys, but he doesn't know a lot either. Regardless, he is "by-the-book"; his first priority is to take care of his Captain, to protect him and make sure that he gets out alive."
If Sergeant Horvath is Miller's "right arm," then the thorn in his side is Private Reiben, a wisecracking New Yorker who makes no secret of his resentment about risking his life to save one private. A rising filmmaker in his own right, Edward Burns won the role after Spielberg caught his performance in Burns' award-winning debut film. Spielberg says, "I saw "The Brothers McMullen," and immediately saw Eddie as Reiben. He has that dry Brooklyn quality, and knows how to get a laugh without milking it."
"When I read the part of Reiben, I thought, 'this is a guy I can really have some fun with,'" Burns comments, but he is quick to clarify that the term "fun" must be taken in context. "These guys see so much horror that they have to mask some of their pain through dark humor. I think Reiben is trying his best to make light of the horrific things he witnesses. So, when I say "fun," I mean it's an interesting opportunity for me as an actor to portray these kinds of emotions."
To play the other soldiers in the squad, the filmmakers brought together an ensemble of young actors. Vin Diesel is Private Caparzo, a tough New York Italian with a gentle side; Giovanni Ribisi plays Wade, the squad?s dedicated medic; Barry Pepper is Private Jackson, a Bible-quoting Tennessee sharpshooter, whose dead aim proves to be a godsend; and Adam Goldberg plays Private Mellish, a Jewish kid from Yonkers, who knows he has more at stake in fighting the Nazis.
The one outsider joining the group is Corporal Upham, a bookish young man who finds himself "drafted" into Captain Miller's squad when their interpreter is killed on D-Day. Jeremy Davies plays the "fish-out-of-water," who Spielberg says serves an important purpose in the drama. "Upham's never been under fire, never seen the panic and chaos of battle first-hand, so I think he represents the audience. Through Upham, they get to come along for the ride, following Miller and his men into war."
"Not having even an inkling that he might get close to combat and then being thrown in the thick of it--that, more than anything, defines him," Davies adds. "It's quite a journey for him, and he goes through quite an evolution."
On the heels of his Oscar-nominated performance in "Good Will Hunting," Matt Damon portrays the object of their mission: Private James Ryan. "Ryan becomes a symbol for Miller and his men, because his going home would represent all of them going home," Damon offers.
Arriving on the set after the other members of the cast had already spent weeks together was, for Damon, much like Ryan's finally meeting up with Miller's squad. "None of us knew what to make of each other at first, which was perfect for the story," Damon recalls, noting that it was Spielberg who ultimately broke the ice. "It's amazing to work with him; you just feel lucky to be there. He knows exactly what he wants, and when he gets it, it's a great feeling for everyone. It draws you in and makes you part of the team."
Unlike the actors playing Miller's squad, the part of Private Ryan did not require Damon to endure military-style basic training. "I would have liked to have done it," he says. "Liked" might not be the word his castmates would have chosen.
Page 1 | Page 2 | Page 3 | Page 4 | Page 5 | Next
Notes
Although Stephen Ambrose is listed as a historical consultant for the film, he was not actively involved during the actual production. Numerous books of his were used as reference sources, but Ambrose himself was never directly contacted by the film's production staff.