"Senior Medical Officer"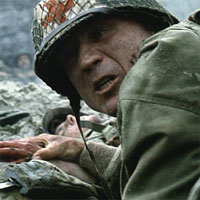 Rank: Unidentified (officer)
Occupational Speciality: Medic/Doctor?
Unit: 29th Infantry Division
This officer (Crofton Hardester) of the 29th Infantry Division landed at Dog Green Sector on Omaha Beach on the morning of June 6, 1944.
While assisting a young Ranger medic in trying to save a battalion surgeon, the officer was hit by a bullet or shrapnel that had pierced his canteen and impacted his hip. After quickly tending to his wound, the officer continued his duties, which included performing triage on injured soldiers.