Sav m/43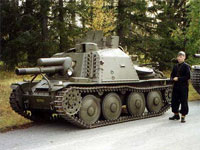 The Stormartillerivgan m/43 assault gun was built by Scania-Vabis and was based on the chassis of the Panzerkampfwagen 38(t) tank, the same chassis used for the Marder III tank destroyer. Only 36 Sav m/43s were constructed, and they remained in service with the Swedish Army until 1974.
During a German attack on the French village of Ramelle on June 13th, 1944, a pair of tank destroyers were employed by the I SS Panzer Corps in addition to infantry-supported Tiger tanks. The Marder III was taken out of action when its crew was killed by Molotov cocktails thrown into the open crew compartment. The other tank destroyer (Sav m/43) was destroyed by a bazooka fired by Technical Sergeant Mike Horvath of the 2nd Ranger Battalion.
Notes
The two tank destroyers used in Saving Private Ryan were found in Czechoslovakia by Steve Lamonby of Plus Film Services. According to Second Battle Group, a UK World War II Re-enactment Society that participated in the filming of the movie, the chassis of the two tank destroyers were original, but the hulls were rebuilt. If this is true, it is odd that the production crew would have made the second tank destroyer resemble a non-German vehicle.
Although the first tank destroyer seen is clearly a German Marder III (Ausf. M), the second (the one destroyed by Horvath) was a bit harder to identify, and appears to be a Swedish Sav m/43 assault gun. Although the I SS Panzer Corps would not have fielded Swedish armor during World War II, the two designs do share a common tank chassis, the Panzerkampfwagen 38(t) (originally the Czechoslovakian LT-38 before the German invasion).
Fact vs. Fiction
A valid point of criticism is the use of lightly-armored and vulnerable tank destroyers within the tight streets of a village. Without adequate support, such vehicles would be easy targets.