SHAEF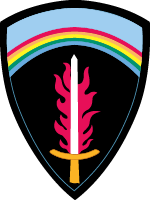 The Supreme Headquarters, Allied Expeditionary Forces (SHAEF) was an alliance of American, British and French forces responsible for planning and executing Allied activities in Western Europe against the Germans.
SHAEF, led by supreme commander General Dwight Eisenhower, was the organization that developed Operation Overlord. SHAEF was established on February 13, 1944, and later, following the German surrender on May 9,1945, disbanded on July 15, 1945.
The SHAEF insignia survives today (in a slightly modified form) as the symbol for the United States Army Europe.
Notes
SHAEF is mentioned during the War Department scene when the fates of the Ryan brothers are being discussed.