Dwight D. Eisenhower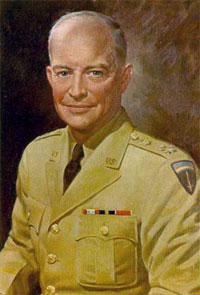 Rank: General
Position: Supreme Commander, Allied Expeditionary Forces
Awards and Decorations: Army Distinguished Service Medal with four oak leaf clusters, Navy Distinguished Service Medal, Legion of Merit, Mexican Border Service Medal, World War I Victory Medal, American Defense Service Medal, American Campaign Medal, European-African-Middle Eastern Campaign Medal with one silver and four bronze service stars, World War II Victory Medal, Army of Occupation Medal with "Germany" clasp, National Defense Service Medal (2 awards)
Dwight David Eisenhower was born in Texas in 1890. He attended West Point from 1911 to 1915, and entered the U.S. Army as a second lieutenant in September of 1915. A capable officer, Eisenhower spent all of World War I stateside, and was not able to command troops in battle (the war ended just as he was about to receive his first combat command).
By September of 1941 he was promoted to the rank of Brigadier General. On August 30, 1943, Eisenhower was promoted to the rank of Major General. In December of 1943 he was appointed as the supreme commander of the Allied Expeditionary Forces, and was in charge of Operation Overlord, the invasion of German-occupied France that took place on June 6, 1944. Every soldier who participated in Operation Overlord carried with him a letter written by Eisenhower which urged them all to victory. Eisenhower served as Army Chief of Staff from 1945 to 1948.
From 1949 to 1950 Eisenhower served as the president of Columbia University, after which he returned to active duty to serve as the supreme commander of NATO from 1950 to 1952.
Eisenhower was elected President of the United States in 1952, and served two terms from 1953 to 1961. He died on March 28, 1969 at Walter Reed Army Hospital in Washington, D.C.
Notes
General Eisenhower is briefly mentioned in Saving Private Ryan during the meeting between General Marshall and his staff. In this scene he is referred to as "Ike," his popular nickname.