T.E. Sanders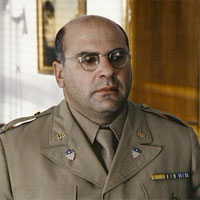 Rank: Captain
Occupational Specialty: Unidentified
Organization: Army General Staff, Army Forces Command, Adjutant General
A few days after the landings at Normandy on June 6, 1944, Captain Sanders (David Wohl) was informed of the recent loss of three brothers from the Ryan family of Payton, Iowa. Sanders brought this tragedy to the attention of Colonel Bryce, who in turn contacted General Marshall. Aware that the Ryan's fourth son was serving with the 101st Airborne Division, Marshall ordered that this soldier be found and returned stateside. A squad of Rangers led by Captain Miller was eventually chosen to conduct this risky rescue operation.
Notes
Although only credited as "War Department Captain" in the credits, the name T. E. Sanders can be seen on the office door of this character. This character was named after Thomas E. Sanders, the production designer on Saving Private Ryan.
Fact vs. Fiction
Captain Sanders is a fictional character.