327th Glider Infantry Regiment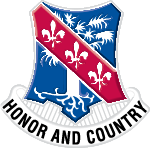 The 327th Infantry Regiment was constituted on August 5th, 1917 and assigned to the 82nd Infantry Division. The unit was later organized at Camp Gordon, Georgia, in September of 1917, and would go on to serve in World War I. Following the end of World War I, the 327th was demobilized and placed in reserve.
On March 25th, 1942 the 327th was reorganized at Camp Claiborne, Louisiana, and further reorganized and redesignated as the 327th Glider Infantry Regiment on August 15th, 1942. It was at this time that the 327th was assigned to the 101st Airborne Division.
As part of the 101st the 327th participated in the assault on German-occupied France during Operation Overlord. Although parts of the 327th were carried into battle by the 99th Troop Carrier Squadron in the early morning hours of June 6th, 1944, most of the regiment arrived in Normandy by sea.
The 327th Glider Infantry Regiment participated in other actions during the war, most notably Operation Market Garden and the Battle of the Bulge, and was deactivated on November 30th, 1945 in France.
The 327th has been activated and reorganized numerous times since World War II, and currently functions as the 327th Infantry Brigade, a member of the 1st Brigade of the 101st Airborne Division (Air Assault). During its history the unit has participated in World War I, World War II (Normandy, Rhineland, Ardennes-Alsace and Central Europe), the Vietnam War, Operation Desert Storm, and in peacekeeping operations in Haiti.
Heraldry
The shield is blue for infantry. Blue is also the color of the South Carolina state flag, the location of the 327th Infantry between WWI and II. The palmetto tree also alludes to South Carolina. The red bend is taken from the arms of the ancient province of Lorraine, and the fleurs-de-lis indicate the regiment's three WWI campaigns.
Lieutenant DeWindt indicated that he had been carrying troops of the 327th Glider Infantry Regiment.