Statue of Liberty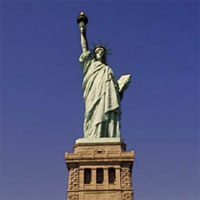 Designed by Frederic Auguste Bartholdi, a French sculptor, the Statue of Liberty was given to the United States as a gift in order to commemorate the American Declaration of Independence.
The statue was built in France and then disassembled for shipment to the United States in July of 1884. Arriving in New York in June of 1885, the statue pieces were assembled and placed on a pedestal that had been previously constructed.
The Statue of Liberty was dedicated on October 28, 1886, and was later designated as a national monument on October 25, 1924. The statue was closed in 2001 following the terror attacks on New York City.
Notes
The Statue of Liberty is mentioned while Captain Miller's squad passes through Neuville. "Dagwood Dusseldorf," a German shouting propaganda through a bullhorn, tries to unsettle the American soldiers with news that the Statue of Liberty is "kaput."