Steven Spielberg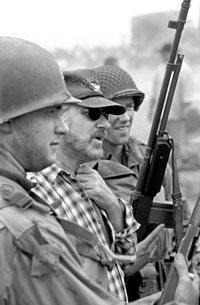 Steven Spielberg (Director/Producer) has directed, produced, or executive produced seven of the twenty top-grossing films of all time. Last summer, he enjoyed back-to-back hits with "The Lost World: Jurassic Park," which he directed, and "Men in Black," which he executive produced.
In 1994, Spielberg won two Academy Awards—one for Best Director and another for Best Picture for his work as a producer—for the internationally lauded "Schindler's List." The film collected a total of seven Oscars, in addition to receiving Best Picture honors from major critics organizations, and seven British Academy Awards, including two for Spielberg. He also won the Golden Globe Award for Best Director, and he was honored by his peers with his second Directors Guild of America (DGA) Award, the first having come for "The Color Purple."
He has also been recognized with Academy Awardâ nominations for "E.T. The Extra-Terrestrial," "Raiders of the Lost Ark" and "Close Encounters of the Third Kind." Additionally, he earned DGA Award nominations for all of those films, as well as "Empire of the Sun," "Jaws" and, most recently, "Amistad." His total of eight DGA nominations ties him with directors Alfred Hitchcock, Billy Wilder and Fred Zinnemann for the most career nominations. He is also the recipient of the Lifetime Achievement Award from the American Film Institute and the prestigious Irving G. Thalberg Award from the Academy of Motion Picture Arts and Sciences.
Spielberg made his feature film directorial debut on "The Sugarland Express," from a screenplay he co-wrote. His film credits as director also include "Jurassic Park," "Hook," "Always," and the "Raiders of the Lost Ark" sequels "Indiana Jones and the Temple of Doom" and "Indiana Jones and the Last Crusade."
Spielberg formed his own production company, Amblin Entertainment, in 1984. Under the Amblin banner, he has served as producer or executive producer on more than a dozen films, including such successes as "Gremlins," "Goonies," "Back to the Future I, II, and III," "Who Framed Roger Rabbit?," "An American Tail," "The Land Before Time," "The Flintstones," "Casper," "Twister," "Men in Black," and this summer's "The Mask of Zorro."
In 1994, Spielberg announced the formation of the new studio DreamWorks SKG, in partnership with Jeffrey Katzenberg and David Geffen.
Spielberg has also devoted his attention to many philanthropic causes. His experience making "Schindler's List," led him to establish the Righteous Persons Foundation with all his profits from the film. He also founded Survivors of the Shoah Visual History Foundation, which has recorded over 42,000 Holocaust survivor testimonies. Most recently, he executive produced "The Last Days," the Shoah Foundation's third documentary, set for release in December 1998. Spielberg is also the chairman of the Starbright Foundation, which combines the efforts of pediatric health care, technology and entertainment to empower seriously ill children.