Saving Private Ryan Soundtrack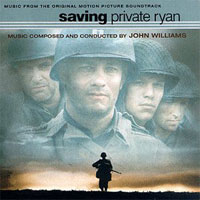 Label: DreamWorks Records
Catalog No.: DRMD-50046
Running Time: 64:14
Composer/Conductor: John Williams
Producer: John Williams
Performers: The Boston Symphony Orchestra and the Tanglewood Festival Chorus
Horn Solos: Gus Sebring
Trumpet Solos: Tim Morrison and Thomas Rolfs
Music Editor: Ken Wannberg
Recorded by: Shawn Murphy
Recorded at: Symphony Hall, Boston, MA
Mixed at: Todd-AO Scoring Stage, Studio City, CA
Liner Notes by Steven Spielberg
With Saving Private Ryan, John Williams has written a memorial for all the soldiers who sacrificed themselves on the altar of freedom in the Normandy Invasion of June 6, 1944. Pay particular attention to the cue entitled "Hymn to the Fallen," which never appears anywhere in the main text of the film, only at the end credit roll. It's a piece of music and a testament to John Williams' sensitivity and brilliance that, in my opinion, will stand the test of time and honor forever the fallen of this war and possibly all wars.
In all of our 16 collaborations, Saving Private Ryan probably contains the least amount of score. Restraint was John Williams' primary objective. He did not want to sentimentalize or create emotion from what already existed in raw form. Saving Private Ryan, is furious and relentless, as are all wars, but where there is music, it is exactly where John Williams intends for us the chance to breathe and remember.
As with Schindler's List, John Williams chose the Boston Symphony Orchestra and the deeply resonant qualities of Symphony Hall to record the score for Saving Private Ryan. I would like to give special mention to Tim Morrison, Thomas Rolfs (trumpets) and Gus Sebring (French horn) for their heartfelt solos, and to Kenny Wannberg, who has been a close collaborator of John Williams and mine from almost the very beginning of my career.