7th Naval Beach Battalion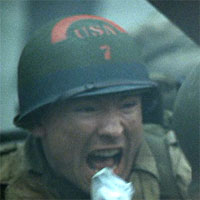 The 7th Naval Beach Battalion was formed on October 5, 1943 at Camp Bradford in Norfolk, Virginia. Following training in Florida and Southern England, the 7th Naval Beach Battalion, numbering 541 men, participated in the June 6, 1944 landings on Omaha Beach in Northern France.
The 7th NBB was assigned to the western section of Omaha Beach and was attached to the Army's 6th Engineer Special Brigade. Also participating in Operation Overlord were the 2nd and 6th NBBs, operating on Utah and Omaha beach respectively.
The primary purpose of the 7th NBB was to act as a liaison between the Navy's seaborne forces and the Army's ground forces. Members of the 7th NBB would have come ashore scattered amongst various other units' landing craft.
Among the tasks of a Navy beach battalion were:
Establish and maintain shore-to-ship communications
Guide incoming and outgoing beach traffic
Small boat repair
Setup aid stations and field hospitals
Evacuate casualties
Demolition of beach obstacles
The 7th NBB remained on Omaha Beach for roughly three weeks, after which it was returned to the United States and later decommissioned in October of 1944.
Notes
Sailors of the 7th NBB can be seen in Saving Private Ryan at various points in the Omaha Beach scenes. Most notable are the sailor who insists on destroying his assigned objective in spite of Captain Miller's protests, and the radioman whose face is blown off.
Fact vs. Fiction
7th NBB sailors are identified by the thick gray band on their helmets, used to distinguish all Navy units operating ashore, as well as a red arc, a red "USN", and a red numeral "7." The helmets seen in the film are not entirely accurate, as the real 7th NBB sailors were instructed to paint the gray band on their helmets well after the arc, lettering and numbers had been painted, and thus the band covered a portion of these elements.