Frederick "Fritz" Niland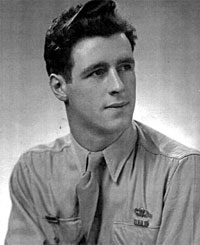 Rank: Sergeant
Unit: 101st Airborne Division, 501st Parachute Infantry Regiment, 3rd Battalion, Company H, 1st Platoon
Parents: Michael and Augusta
Brothers: 3 - Robert, Preston and Edward
Home Town: Tonawanda, New York
Saving Sergeant Niland? Although the story for the search for Private Ryan is fictional, there was a real paratrooper in the 101st Airborne Division whose family (appeared to have) suffered the loss of three out of four sons in combat in a short period of time.
Sergeant Frederick "Fritz" Niland was a member of the 101st Airborne's 501st Parachute Infantry Regiment, and was one of those that made the drop into Normandy on June 6, 1944. He landed southwest of Carentan in Raffoville, and he was eventually able to make it back to his unit on his own.
Niland's three brothers served in other units, Technical Sergeant Robert Niland with the 82nd Airborne Division (505th Parachute Infantry Regiment, Company D), Lieutenant Preston Niland with the 4th Infantry Division (22nd Infantry Regiment), and Technical Sergeant Edward Niland as a pilot in the Army Air Force.
Edward had been reported missing over Burma in the Pacific Theater on May 16, 1944. His B-25 had been shot down and he was reported as MIA and presumed killed. Robert was killed on D-Day at Neuville-au-Plain. Preston was killed on June 7th in the vicinity of Utah Beach.
Unlike the fictional Ryan, however, there was no need to send out a rescue mission to find Sergeant Niland. When Father Francis L. Sampson, chaplain of the 501st, learned that two of Niland's brothers were dead, and that a third was presumed dead, he began the paperwork necessary to send Niland home.
Niland remained with his unit for some time, but once the paperwork cleared he was forced to return to the States, where he served in New York as an MP for the rest of the war.
Fortunately for the Niland family, Edward Niland had not been killed, but had spent almost an entire year in a Japanese prisoner of war camp before being rescued by British forces.
The two deceased Niland brothers were buried at the Normandy American Cemetery and Memorial at Colleville-sur-Mer, France. Robert is buried in Plot F, Row 15, Grave 11, and Preston is buried in Plot F, Row 15, Grave 12.
Notes
Attempts to point out the "discrepancies" between the stories of Fritz Niland and James Ryan are often misguided, as Ryan is only based on Niland, and is not meant to be (or claimed to be) a completely accurate representation of him. The differences in the two stories seem to stem in part from the fact that the true story of Sergeant Niland and his brothers is often reported inaccurately. The character of Private James Ryan is a mixture of fact and fiction, with some of the fictional elements coming from the erroneous stories about the Niland brothers.